Overseas Chinese experience traditional culture in Pingyao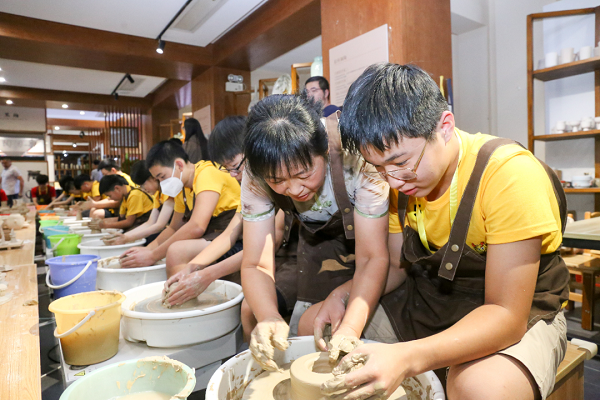 A teenager learns pottery at the museum complex. [Photo/WeChat account: yhqpyz]
Over 100 teenagers of Chinese descent from 14 countries, including the United States, the United Kingdom, Japan, and Italy, recently ventured into Hangzhou's Yuhang district, specifically the ancient street of Pinyao, to experience the vitality of Chinese folk art.
At the local intangible cultural heritage museum complex, youngsters engaged in hands-on experiences of traditional crafts like ceramics, kite-making, jade carving, and paper umbrella crafting.
The museum complex is the first of its kind in Hangzhou, comprising six pavilions for Liangzhu Jade Carving, Yuhang Paper Umbrella, Pingyao Pottery, Kite and Lantern Crafts, Silk Culture, and Ancient Ceramic Art.
"I made a small cup, modeled after the design of a Liangzhu jade cong," said 13-year-old Feng Minxin, a young Chinese-American. "This is my second time trying pottery. I did it once when I was younger. Teacher Wu taught me about the history of pottery culture and encouraged me to delve deeper into learning pottery."
Moreover, standardized signs in both Chinese and English, accessible facilities, easily accessible visitor information stations, and international card payment options have all impressed the students.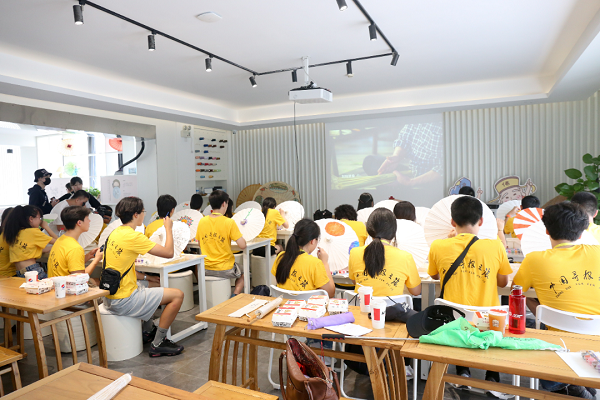 Overseas teenagers learn about paper umbrella crafting. [Photo/WeChat account: yhqpyz]
September 5, 2023

August 30, 2023

August 25, 2023