Reading between the lines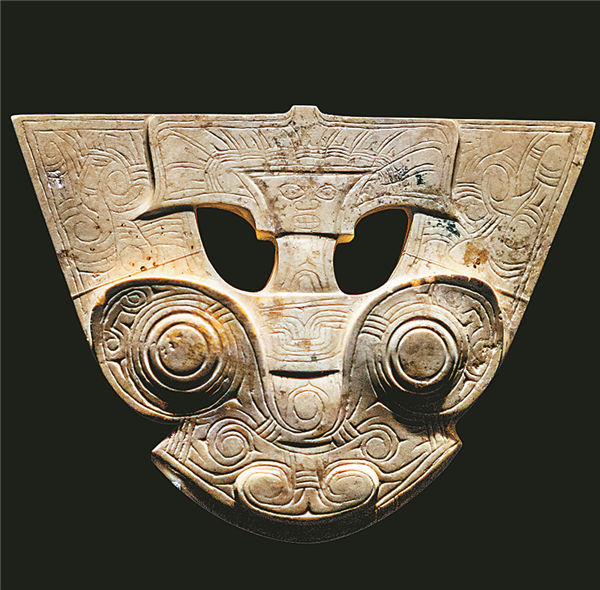 A Liangzhu jade plaque ornament bearing the man-and-beast pattern. [Photo by Gao Erqiang/China Daily]
Jade, engraved with mysterious motifs and intricately crafted patterns, has provided experts with a map that charts the influential course of an ancient civilization, Zhao Xu reports.
It let its weight be felt the very moment it was unearthed and lifted out of the soil, under which it had been buried for some 5,000 years. Next was its fantastical beauty, of which a tantalizing glimpse was gained by Qiang Chaomei, as she stared at it through her camera, zooming in on the mind-boggling lines engraved across its surface.
"At the time we were working with rather primitive photography equipment: the light was anything but soft, yet it somehow helped to bring out all the details vividly and sharply," she recalled in 2022, 36 years after the discovery thrilled the Chinese archaeological world.
"There they were — the feathered crown and the extraordinarily big eyes rendered in relief, the threadlike lines that filled up the spaces ... I traced those lines through the viewfinder before arriving at what seemed to be the elbow of a bent arm, toward the end of which was a well-defined hand with four fingers and a thumb!"
As an astounded Qiang zoomed out, another arm entered the frame: the pattern was symmetrical, containing a striking sense of solemnity befitting the rarity of its material — jade.
The object is known as a cong, the word denoting a particular form of ritual jadeware, which typically features a cylindrical tube encased in a square prism. To be exact, this particular piece is known as "the king of all cong", thanks in equal part to its mass — it weighs 6.5 kilograms — and minute details. The man to whom it had belonged — the occupant of a tomb dated to around 3000 BC — is believed to be among those behind the construction of the ancient city of Liangzhu, a UNESCO World Heritage Site in today's Hangzhou, Zhejiang province.
August 17, 2023

August 16, 2023