Hangzhou buses customize ride-hailing services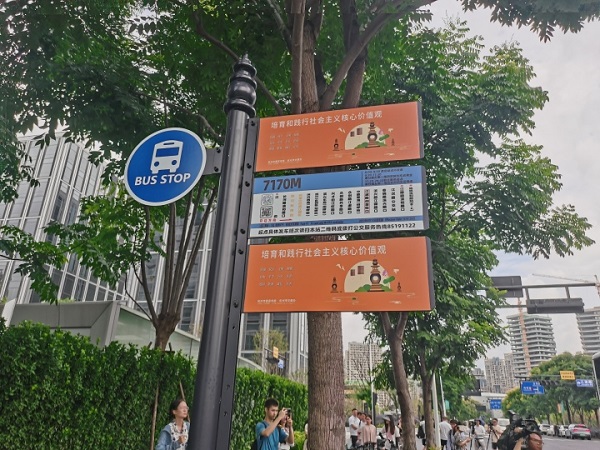 The bus stop of route 7170M. [Photo/china.com.cn]
On Aug 15, Hangzhou Public Transport Group, in collaboration with Binjiang Internet Town, launched "Cloud Bus" services in the area to meet the commuting needs of nearby office workers.
The pilot phase has begun with bus route 7170M. During off-peak hours (9:30 am to 5:30 pm) and evening peak hours (5:30 pm to 8:30 pm), route 7170M operates in "Cloud Bus" mode.
When the vehicle receives a ride request, it departs from the nearest location and arrives at the pick-up bus station in no more than 10 minutes.
During the evening rush hour, route 7170M operates using a combination of regular bus services and the "Cloud Bus" on-demand model. Alongside regular bus stops, passengers can also enjoy the on-demand service at two stations: South Gate of CK Telecom Industrial Park and East Gate of Alibaba Binjiang Campus.
Currently, the bus does not accept scheduled bookings. If travel plans change, passengers are advised to promptly cancel their reservation.
Furthermore, route 7170M supports various types of discount cards, promo codes, and metro-bus transfer policies, ensuring that passengers can continue to enjoy existing benefits.
"Route 7170M has many office buildings along its path. The introduction of 'Cloud Bus' primarily caters to the commuting needs of nearby office workers," said Zhou Min, a manager at the transport group.
Spanning approximately four kilometers in total, route 7170M connects Binhe Road Station and Changhe Station, intersecting with Metro Lines 1, 5, and 6. The service is currently in a pilot phase and will be fine-tuned and extended to Qiantang district in the near future.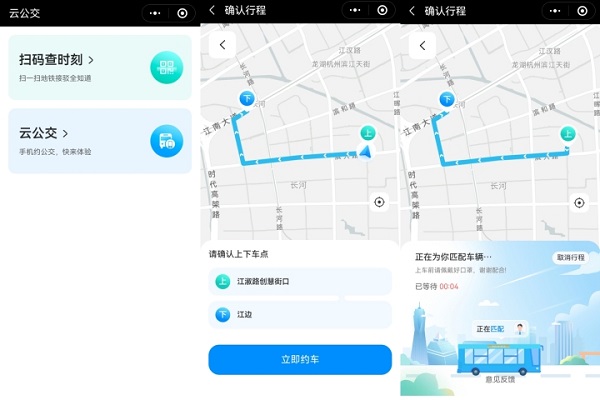 The ride-hailing interface. [Photo/china.com.cn]
August 24, 2023

August 21, 2023

August 17, 2023