Hangzhou Asian Games launch integrated digital participation platform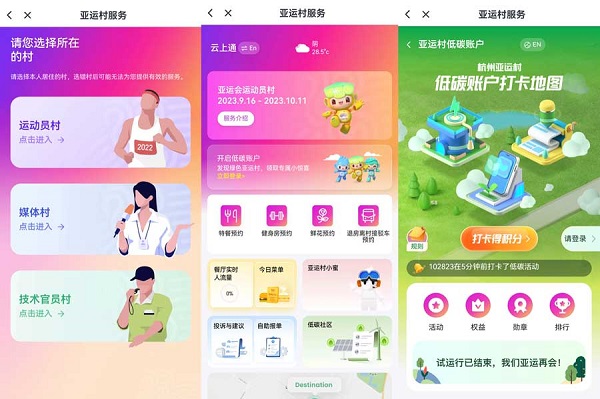 The interface of the app. [Photo/hangzhou2022.cn]
The Hangzhou Asian Games Organizing Committee recently launched the integrated digital participation platform "Go Hangzhou" app.
The app, designed to address challenges faced by participants in large international events, such as language barriers, multiple service channels, and inefficient services, offers over 40 services across five categories - general services, event results, media services, Asian Games Village services, and electronic identity registration card services.
This comprehensive range of offerings ensures athletes, delegation members, technical officials, and everyone else can enjoy a seamless, practical, and intelligent experience.
For instance, the app has introduced electronic identity registration cards as entry permits, aiming to address situations where physical identity registration cards for foreign participants are not delivered, lost before entry, or forgotten.
The app also includes unique features for services within the Asian Games Village, providing nine functions related to weather, appointments, menus, low-carbon communities, and guided maps. Residents of the village can access daily meals and late-night snack menus on their phones and even book transportation connections and special cultural activities.
The general services section of the app offers 17 services covering real-time translation, news updates, service guides, flight inquiries, official merchandise, medical services, and digital payment guidelines. The services encompass all aspects of participation in the Games, making the app an invaluable tool for participants.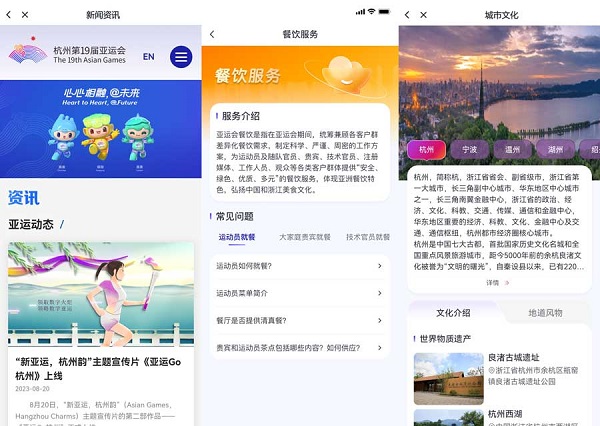 The interface of the app. [Photo/hangzhou2022.cn]
August 21, 2023

August 17, 2023

August 16, 2023