Unmanned delivery vehicles hit Hangzhou road, marking new breakthrough
Unmanned logistics delivery vehicles are now cruising through local streets, spelling a momentous leap forward in the commercial operation of autonomous vehicles in Hangzhou, the provincial capital of Southeast China's Zhejiang Province, according to local authorities on Monday.
The city government has listed Qiantang District as the pilot zone for the testing and application of Intelligent Connected Vehicles (ICVs) in an official notice unveiled on July 27, marking an important step in Hangzhou's deployment of ICVs.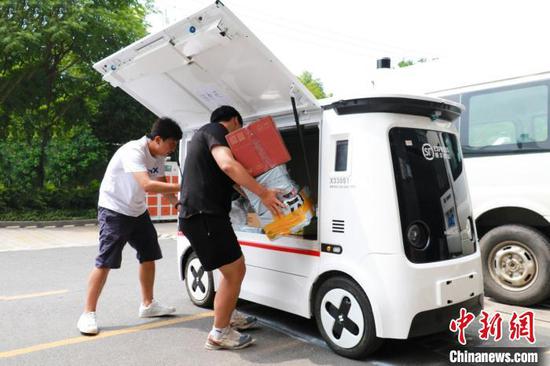 An unmanned logistics delivery vehicle hits the road in Hangzhou, Zhejiang Province. (Photo/China News Service)
"With a cargo space of 3 cubic meters, this unmanned delivery vehicle has a maximum load capacity of 1,000 kilograms and endurance mileage of 200 kilometers," said its manufacturer.
To operate these high-tech couriers, delivery personnel could first scan the code and load packages into the unmanned delivery vehicle. Guided by pre-set digital routes, the vehicle can navigate to their designated destinations.
Each vehicle is equipped with lidar sensors, cameras, and other equipment that provide a 360-degree perception of the environment. As it can respond to traffic lights, lane markings, and obstacles, the vehicle could navigate smoothly in various settings, including residential areas, campuses, and parks.
Currently,10 such delivery vehicles have been put into operation across two express delivery stations. However, this is merely overture.
By the end of November, it is estimated to cover the entire Qiantang District, with a total of 50 vehicles in operation.
It is reported that beyond logistics delivery, Hangzhou is also conducting testing and application of ICVs in short-distance connections, intelligent public transportation, environmental sanitation and maintenance operations.
The city is gradually advancing the production and admission of ICVs for road use, fostering new forms of intelligent transportation.
August 21, 2023

August 17, 2023

August 16, 2023