30 days to go, anticipation for impending Hangzhou Asian Games runs high across Asia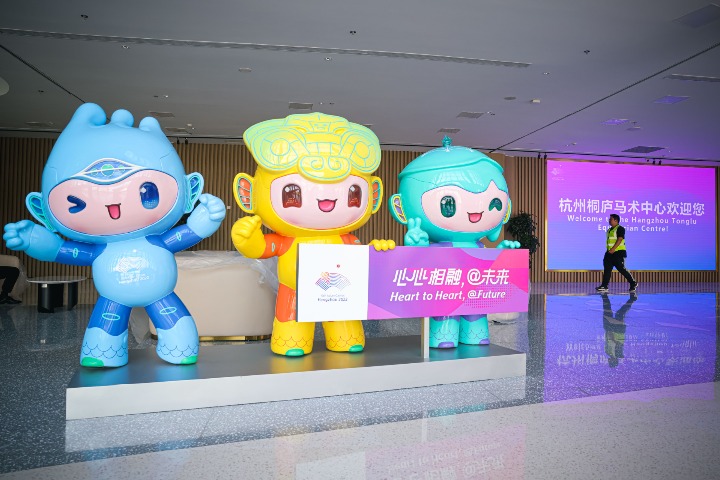 Statues of the mascots of the Hangzhou Asian Games. [Photo/IC]
Athletes and officials from all overs Asia are in eager anticipation of the 19th Asian Games in Hangzhou, China.
With just 30 days left before the 19th Asian Games open in Hangzhou, China, nations and regions across Asia eagerly anticipate the upcoming sports event.
Yasuhiro Inomata, deputy secretary-general of the Aichi-Nagoya Asian Games Organizing Committee, expressed high hopes for the Hangzhou Asian Games, believing they will undoubtedly be a success.
"Every venue is fantastic, and the staff as well as the volunteers are enthusiastic. Especially when riding the subway, the synchronized promotional videos playing outside the windows are awe-inspiring," said Inomata who paid a visit to Hangzhou in April.
Charoen Wattanasin, vice president of the Thai Olympic Committee, praised the slogan of the Hangzhou Asian Games, "Heart to Heart, @Future." He interprets it as emphasizing sincere interaction and mutual understanding, as well as the continuous journey toward the future.
Delegations anticipate making their mark in Hangzhou.
"We are sending our largest Team Singapore contingent to the Asian Games. The athletes have their targets set and will be working closely with their performance team to meet them," said Singapore Chef de Mission Koh Koon Teck. "I am confident that, if they continue to train well and keep their focus, they will be able to perform to the best of their ability in Hangzhou."
"I have been shooting for about 10 years. I participated in the Tokyo Olympics and was able to break my record. Compared to the previous games, I am confident and I hope to record my personal best," said Lenchu Kuenzang, who will compete in the men's 10-meter air rifle event for Bhutan and is seen as a medal contender.
"Our overall sports standard has been improving, and major sports such as swimming, fencing, cycling, and athletics are sending strong squads," a Hong Kong Olympic Committee official told the South China Morning Post.
According to Yonhap News, South Korea is also dispatching its largest-ever delegation to the Asian Games, totaling 1,180 individuals. This number surpasses their presence at the 2018 Jakarta Asian Games and even the 2014 Incheon Asian Games when South Korea was the host.
"After the quieting of the COVID-19 pandemic, we're finally welcoming such a grand competition," Seoul resident Lee Seong-hui said. "Spectators haven't enjoyed a large-scale event like this in a while; it will be a great celebration for everyone."
The Acting President of the Olympic Council of Asia (OCA), Raja Randhir Singh, believes the preparations promise a memorable and historic event.
"The Hangzhou Asian Games Organising Committee has done a remarkable job in their meticulous planning and preparations and they are ready to welcome the 19th Asian Games to Hangzhou and the five co-host cities in Zhejiang province in a few weeks' time," said Raja Randhir Singh.
The Hangzhou Asian Games will feature 40 sports, 61 disciplines, and 483 events in 54 competition venues. It marks the third occasion China will host the OCA's signature event, following Beijing in 1990 and Guangzhou in 2010.
August 21, 2023

August 17, 2023

August 16, 2023