NGOs, industry groups give job seekers a helping hand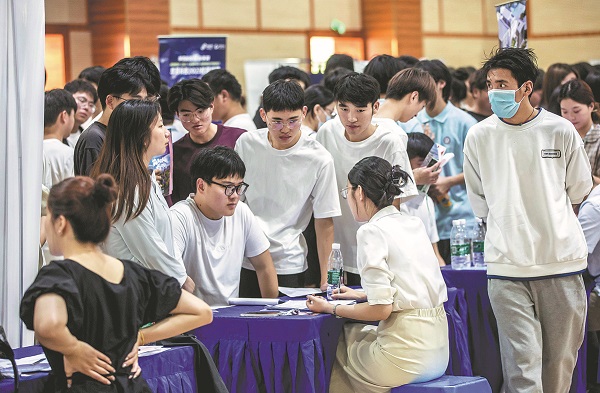 Fresh graduates are interviewed at a job fair held at the Jiangsu Vocational College of Electronics and Information in Huaian, Jiangsu province, on June 15. [Photo provided to China Daily]
By acting as 'middlemen' between employers and people looking for work, they supply invaluable information and support. Cheng Si reports from Hangzhou.
In mid-July, Zheng Rui had a job consultation at a stand of the recruitment platform Xunzhiji in Hangzhou, Zhejiang province.
The 22-year-old was looking for a temporary job in the city during his summer vacation from college.
"My ideal short-term job for the holiday would be as a restaurant server, which would be a good opportunity for me to meet people. I expect the monthly salary to be 4,000 to 5,000 yuan ($550 to $686)," said the third-year undergraduate at a university in Hangzhou.
He was one of the hundreds of job seekers that Xu Xueping meets every month as head of the Xunzhiji job consultancy stand at a shopping mall in Hangzhou's Xiasha district.
"We are like a middleman between job seekers and employers. Most of the employers registered with our platform are stores or restaurants at the malls in which our stands are located. We help match job seekers with vacancies, and have a high level of efficiency and accuracy as we are familiar with the employers and their requirements for such openings," she said.
Xu said her team members listen to the job seekers' requirements and then provide basic information about vacant positions, such as working hours and payment. They also accompany job seekers to interviews to help raise the acceptance rate. "These companionship services can also boost the job seekers' trust in us and make them treat us as a friend," she said.
As a member of the Zhejiang Human Resources Consulting Association, a nongovernmental industry association in the province, Xunzhiji has in recent years taken on the responsibility of channeling job openings to college students and others in need of work, while providing them with free assistance.
Promoting employment
"We don't charge job seekers a fee — we offer them assistance with career planning, job information, employment training and companionship during interviews. We offer paid services to employers and take commissions from the companies," said Chen Hongfei, Xunzhiji's founder and CEO.
Having been involved in the human resources industry for more than a decade, Chen said he has seen many job seekers, especially college students, subjected to unfair treatment or chicanery due to a lack of information and their scant experience of society.
"I have seen many students being deceived by unscrupulous recruitment agencies, who retained their ID cards or even coaxed them into joining pyramid selling (schemes). These experiences and the possible resultant psychological harm may give young people a bad impression of the job market. Jobs can greatly affect a person's life, especially in the first three years after entering the employment market," he said.
Chen said Xunzhiji joined the provincial HR association a couple of years ago, when the company was founded in Shanghai and Hangzhou. "At the time, it was like a talent scout for us new startups. Now, we can get more sound industry information and knowledge from the association. Also, we can better connect job seekers and employers with the help provided by the association to further promote the employment of young people," he added.
August 25, 2023

August 24, 2023

August 21, 2023