Hangzhou encourages instant cash-ins for recyclables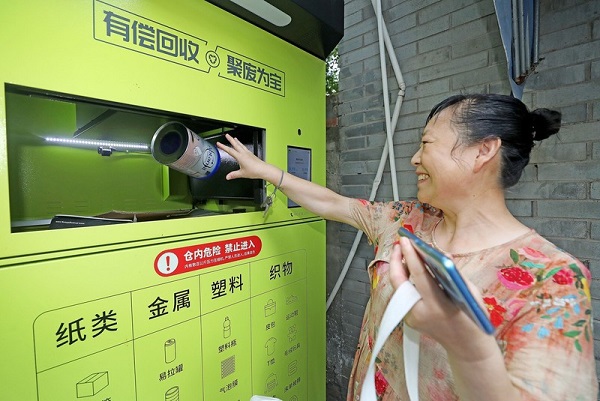 A resident throws recyclables into the machine. [Photo/IC]
The first batch of recycling machines for recyclables was introduced and tested at two residential communities in Xihu district, Hangzhou, recently.
The machine brings a fresh approach to waste disposal, distinct from traditional methods. Fully automated, it offers compensation for recyclable items such as paper, metal, plastic, and fabric.
After residents scan the QR code, open the machine, and deposit their trash, the machine will promptly measure the weight and value the items, then transfer the corresponding cash to the user's WeChat account.
The method allows residents to instantly earn money from their recyclables, making it a highly welcomed initiative among the public.
According to backend data, during the first week of the trial run of eight smart recycling machines in the Cuiyuan neighborhood, a total of 1,653 residents participated, contributing 2,168 recycling instances and a total weight of 4,276.21 kilograms of recyclable materials.
The data underscores the positive reception and active involvement of the community in the novel waste management approach.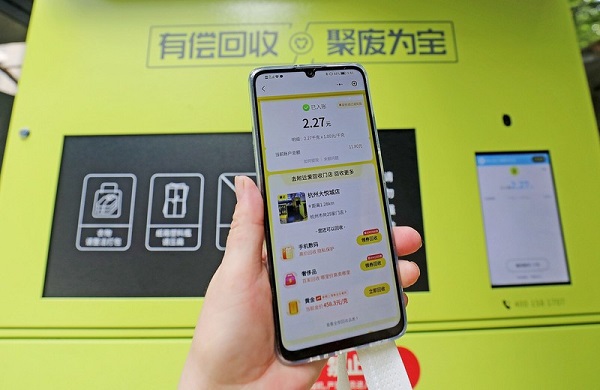 A resident gets instant cash-in for garbage recycling. [Photo/IC]
August 25, 2023

August 24, 2023

August 21, 2023