Hangzhou manufacturing gains momentum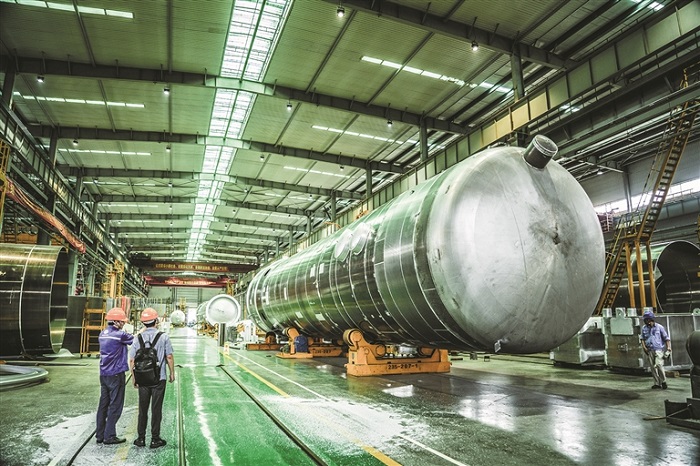 Hangyang Group's manufacturing base in Lin'an district, Hangzhou. [Photo/hangzhou.com.cn]
Manufacturing in Hangzhou is continuing to gather strength, particularly within the high-end equipment manufacturing industry, which is one of the five major industrial clusters being prioritized in Hangzhou.
The latest data show that from January to July, the value-added growth of Hangzhou's equipment manufacturing industry reached 8.4 percent, outpacing the growth rate of 7.0 percentage points for industrial added value above a designated size.
Prominent Hangzhou-based listed companies in this sector, such as Hangcha Group and CFMOTO, are defying the odds with increased export orders and impressive semi-annual financial reports.
Amid the green and low-carbon industrial initiatives, leading players in Hangzhou's equipment manufacturing sector are undergoing noticeable industrial innovation and upgrades.
They are actively expanding their industrial chains, seizing opportunities presented by the development of the carbon peak and carbon neutrality strategy, and accelerating their entry into new sectors and markets.
Hangcha Group, for instance, recognized the increasingly apparent trend towards the electrification and intelligence of industrial vehicles. The demand for new energy industrial vehicles is witnessing rapid growth, underscoring the industry's overall transformation and upgrading.
Hangyang Group is expanding its gas-related operations and investing in multiple areas, such as fertilizers, chemical materials, steel, and hydrogen energy.
"This year, Hangyang has achieved breakthroughs in expanding overseas gas markets. Moving forward, the company will focus more on market opportunities that arise through collaboration with outstanding domestic enterprises in venturing abroad," responded Hangyang Group to investors.
As Hangzhou's equipment manufacturing enterprises align with evolving industry trends and embrace innovative approaches, they are contributing to the city's reputation as a hub for high-quality manufacturing, enhancing its economic vitality and global competitiveness.
August 30, 2023

August 25, 2023