Xianghu Lake helicopter tours to take flight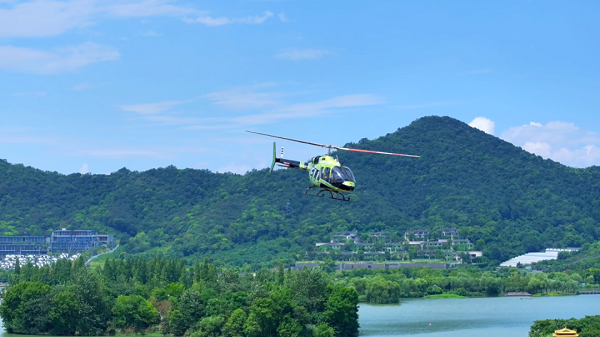 The Xianghu Lake helicopter tours. [Photo/WeChat account: xianghufabu]
Hangzhou's enchanting Xianghu Lake will soon open up the low skies to adventure enthusiasts and nature lovers with a thrilling helicopter ride.
The Xianghu Lake helicopter tour boasts three distinctive routes, with the "Xianghu Lake Asian Games Route" standing out. Stretching between the Xianghu Lake and the Hangzhou Olympic Sports Center, the route offers a bird's-eye view of Hangzhou's most iconic landmarks and scenic wonders on the south bank of the Qiantang River.
Departing from Xianghu Lake Hushan Square, the helicopter will ascend to 200 meters, skimming over the lake's serene waters. The aerial trip treats passengers to panoramic vistas, revealing Xiaoshan's architectural marvels.
As the aircraft flies eastward, the breathtaking view becomes even more striking. As the aircraft pivots, the "Gateway to Wisdom" in Binjiang district and the "Hangzhou Gateway" in Xiaoshan come in sight, presenting a visual spectacle of Hangzhou's contemporary allure.
Under the pilot's guidance, passengers are directed to look downward and to the right, revealing the Hangzhou Olympic Sports Center. An oversized "Big Lotus" dominates the view, perfectly framed by the helicopter window.
The trip continues over the majestic Qiantang River, evoking the illusion of being within arm's reach of the "Big Golden Ball".
The spotlight shifts to Binjiang with the turn, where the China Low Carbon Museum, Binjiang Longfor Paradise Walk, and a sea of sunflowers come into view. Notably, the cloud-shaped modern White Horse Lake complex is visible from a distance.
Further south, the beauty of the Xianghu Lake takes center stage. As the helicopter gently touches down, the round trip lasts for about ten minutes.
With two additional routes in the lineup, "Aerial Xianghu Lake Viewing" takes travelers along the lake's eastern band, providing an aerial panorama of the lake's surroundings, while "Aerial West Lake and Xianghu Lake Journey" promises an expedition over both the Xianghu Lake and the West Lake's beauty.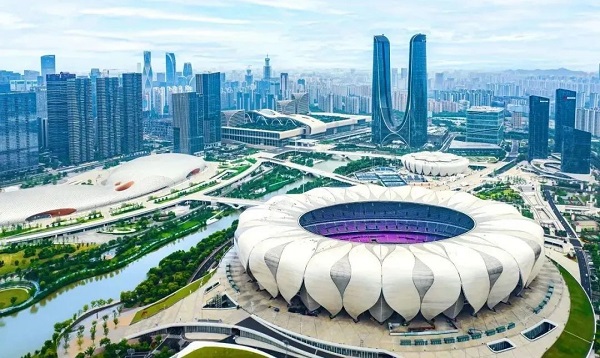 Landmarks in Xiaoshan district. [Photo/WeChat account: xianghufabu]
September 8, 2023

September 5, 2023

August 30, 2023