Experience a green, low-carbon lifestyle at Asian Games Village
The Asian Games Village in Xiaoshan district, Hangzhou opened its doors to the media on Sept 12, showcasing a lifestyle focused on three keywords: green, smart, and cultural, offering journalists a comprehensive look into daily life in the village.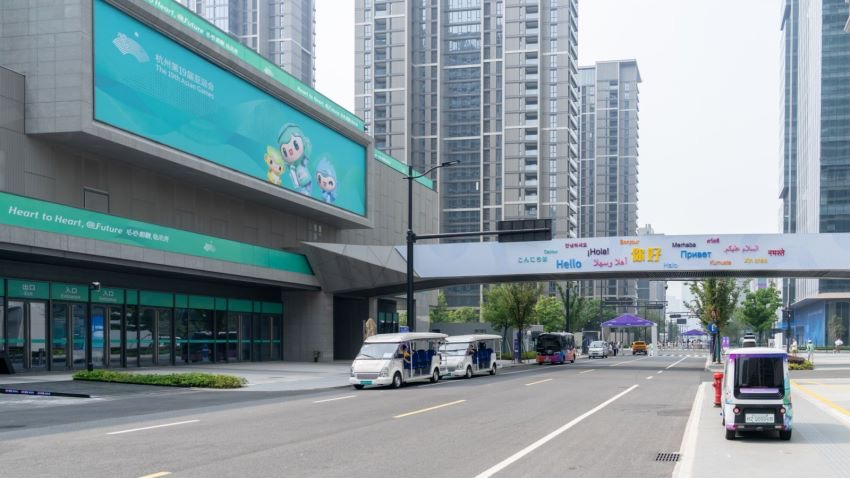 Electric shuttle buses wait in line at the Hangzhou Asian Games Village. [Photo/hangzhou2022.cn]
Green, smart, and low-carbon transportation options
During the media's tour, the village's commitment to sustainability was evident with every step.
Firstly, green shuttle buses and bicycles known as "Little Red Bikes" are at the heart of low-carbon transportation in the village. A fleet of electric shuttle buses operates between each building, with designated stops throughout. During the Games, the village will have 100 such buses and a service team of over 220 people available.
To further enhance transportation convenience, special shuttle lines for arrivals and departures have been established, offering 24-hour service. Teams can also pre-book departure transportation through the "Asian Games Cloud Village" platform.
Apart from shuttle buses, people can opt for environmentally-friendly "Little Red Bikes" for daily travel. The initial deployment includes 160 bikes, with 120 stationed in the athletes' village across six bike-sharing locations and 40 at the media village across two locations.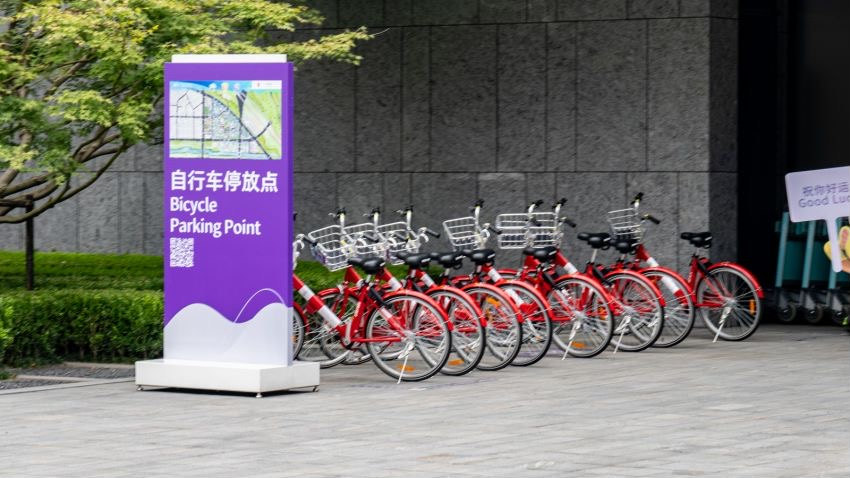 Shared bikes, nicknamed "Little Red Bikes", are deployed at six locations in the the athletes' village and two locations in the media village. [Photo/hangzhou2022.cn]
Green and low-carbon practices in daily life
The Asian Games Village has introduced low-carbon accounts and a "Zero Waste" living philosophy, promoting green, low-carbon, waste-free, and recycling practices among residents through a combination of online and offline efforts.
Online, residents can use the "Asian Games Cloud Village" platform, including its distinctive "Low-Carbon Account" program.
Residents can practice green and low-carbon behaviors such as reducing food waste, using environmentally-friendly transportation, and plastic-free shopping. They can then upload photos to the platform, participating in the village's carbon reduction activities and earning low-carbon points. The points can be redeemed for various eco-friendly rewards, including headphones, speakers, backpacks, and badges.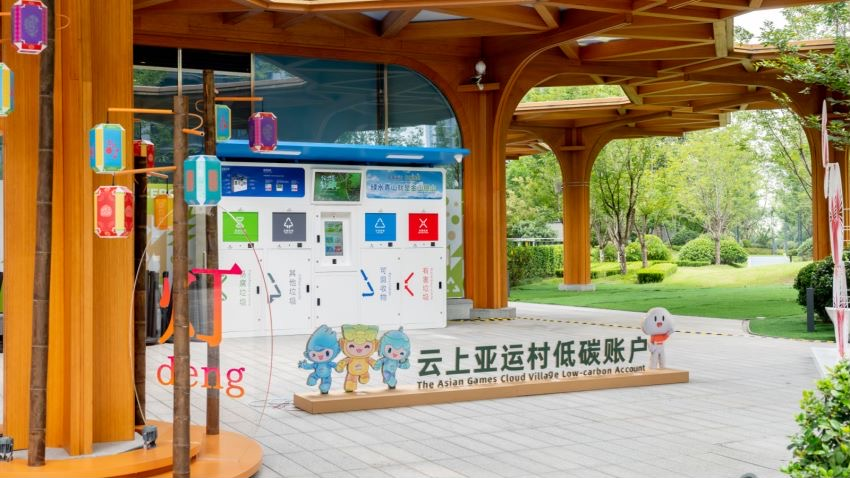 Low-carbon points are earned by practicing environmentally-friendly behaviors in the village. [Photo/hangzhou2022.cn]
A low-carbon account is located in the athlete's village and offers various eco-friendly rewards. [Photo/hangzhou2022.cn]
September 8, 2023

September 5, 2023

August 30, 2023