Myanmar media delegation explores Hangzhou Asian Games Main Media Center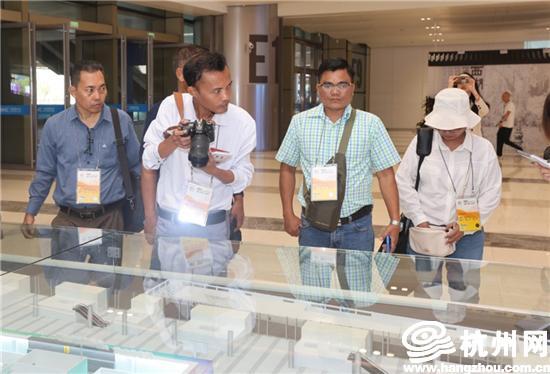 The Myanmar delegation visits the Hangzhou Asian Games Main Media Center on Sept 17. [Photo/hangzhou.com.cn]
A delegation of journalists from Myanmar visited the Hangzhou Asian Games Main Media Center on Sept 17 to experience the various facilities and services provided to the media during the Games.
The center is a major non-competition venue for the Games and serves as the headquarters for the Media Committee of the Olympic Council of Asia, broadcasting agencies, rights-holding broadcasters, and news and information service teams.
Situated within the Hangzhou International Expo Center, the center is in close proximity to the Hangzhou Olympic Sports Center Stadium.
During their visit, the delegation toured different areas, including the Commercial Service Zone, Life Service Zone, Main Press Center, and International Broadcast Center.
The experience allowed them to witness firsthand the wide range of facilities and services of offer, such as office spaces, language support, transportation, dining options, technological resources and commercial services.
In the Commercial Service Zone, the delegation learned about the services offered by 17 commercial entities, gaining insights into the intelligent features and services such as ATMs, express delivery services, communication facilities, makeup services, and authorized merchandise stores.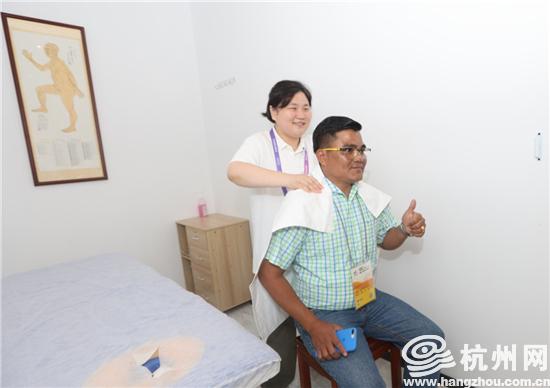 A reporter tries Chinese message at the media center. [Photo/hangzhou.com.cn]
In the Life Service Zone, one of the most memorable experiences for the delegation was at the Traditional Chinese Medicine Culture Experience Center, where they had the opportunity to receive massages and participate in Ba Duan Jin, a series of traditional Chinese physical exercises.
Saw Myint Than, an editor at Yangon Media Group, reflected on his impressions of the Main Media Center, saying "I have been working in the media industry for 20 years and have covered many international tournaments. The Hangzhou Asian Games Main Media Center is clean and well-organized with comprehensive facilities, and it's very friendly to foreign reporters."
Ye Naing Soe, the editor-in-chief of Bago Monthly, tried out the Sleep Pod and commented that in the midst of intense reporting, having a place to lie down and rest was a delightful experience.
The center officially opens on Sept 18. During the Games, it will play a pivotal role in news dissemination, media operations, and broadcasting services, with over 11,000 domestic and international reporters stationed.
September 20, 2023

September 15, 2023

September 13, 2023