Three exhibitions usher in Asian Games with artistic splendor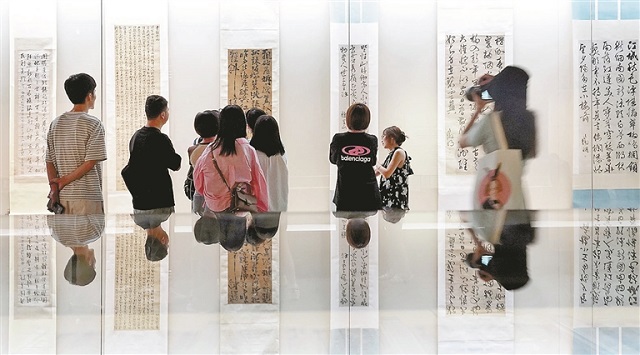 People take a close look at the calligraphy works. [Photo/hangzhou.com.cn]
The Zhejiang Art Museum unveiled the exhibition A Grand Vision of Artistic Intention: Selected Calligraphy since the Song Dynasty on Sept 13, local media outlets reported.
The exhibit showcases an array of esteemed works from renowned calligraphers of the Song Dynasty (960-1279), works influenced by the Song Dynasty's "Shangyi" calligraphy style by famous calligraphers from the Yuan, Ming, and Qing dynasties (1271-1911), and nearly 100 rubbings and cliff calligraphy from the Song Dynasty.
The exhibition, along with the previously launched Game Theory: Digital Arts Themed on Athletics Spirits for the 19th Asian Games Hangzhou and Oriental Wisdom: Contemporary Art Themed on Chinese Traditional Culture, collectively forms the "Three Thematic Art Exhibitions to Welcome the Asian Games" at the Zhejiang Art Museum.
Through different presentation styles, the exhibitions aim to showcase the charm of traditional Chinese culture and contemporary Chinese art to a wider audience, infusing a sense of artistry into the upcoming Hangzhou Asian Games.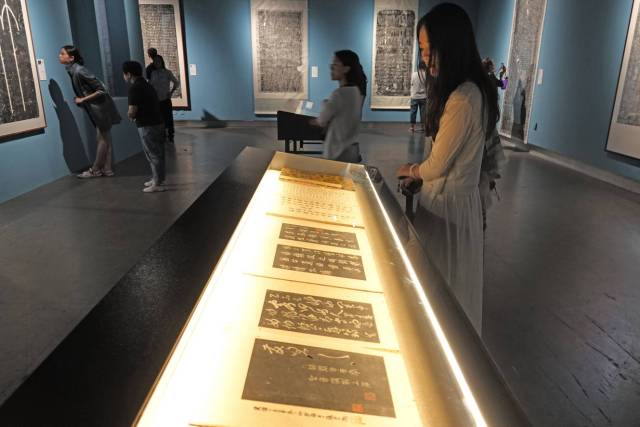 People take a close look at the calligraphy works. [Photo/hangzhou.com.cn]
September 15, 2023

September 13, 2023

September 5, 2023