First welcome ceremony for overseas delegations held at Hangzhou Asian Games Village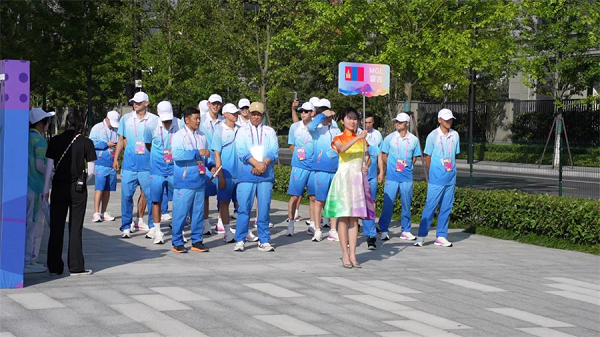 The Mongolian sports delegation arrives at the Hangzhou Asian Games Village on Sept 18. [Photo/hangzhou2022.cn]
The first welcome ceremony for overseas sports delegations took place at the Flag Plaza of the Hangzhou Asian Games Village on Sept 18, extending a warm welcome to counterparts from Mongolia.
Accompanied by gongs and drums, lion dance troupes lined up on both sides to form a welcoming corridor as the Mongolian delegation entered the plaza. The delegation was highly impressed by the Village, with members eagerly taking out their smartphones to capture the unique scenery.
As the music played, "tea-picking maidens" wearing straw hats approached the athletes, offering them a cup of tea. Meanwhile, a martial arts performance team performed in unison nearby, showcasing their martial skills with each move and gesture.
Following the performances, Li Huolin, mayor of the Village, delivered a welcome speech: "In this golden September, we gather here along the Qiantang River to welcome all the members of the Mongolian delegation participating in the 19th Asian Games."
After the ceremony, the delegation visited the Volunteer Service Center and engaged in interactive activities such as shuttlecock kicking, calligraphy, rubbings, badge exchanges, and postcard design, which allowed them to relax and experience the charm of Chinese traditional culture.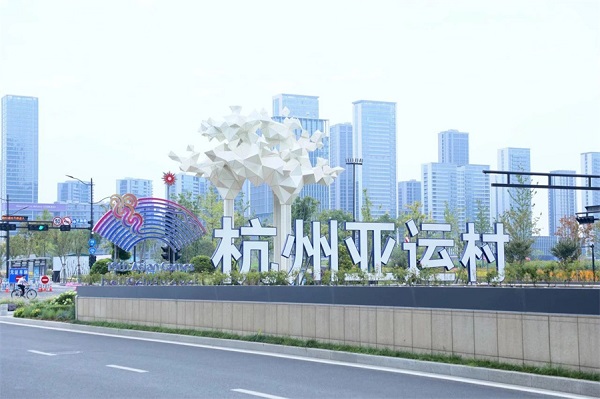 A corner of the Hangzhou Asian Games Village. [Photo/hangzhou2022.cn]
September 15, 2023

September 13, 2023

September 5, 2023