Building a sustainable legacy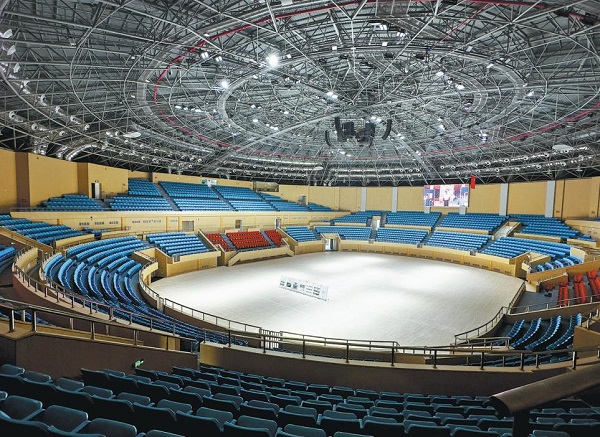 Hangzhou Dianzi University Gymnasium will host the fencing events for the Asian Games and Asian Para Games.
State-of-the-art venues all stand on a foundation of minimum waste, maximum functionality
Hangzhou, along with the five co-host cities of Ningbo, Wenzhou, Huzhou, Shaoxing and Jinhua in Zhejiang province, has promised an environmentally friendly Asian Games. From the construction, and in some cases restoration, of the venues, to their operation and utilization both during and after the games, sustainability has been integrated into every detail of the preparations, according to the Hangzhou Asian Games Organizing Committee.

Out of the 56 competition venues for the games, only 12 are newly built. The remaining 44, along with 31 training venues, are all renovated from, or temporarily built on, existing sites.
"We have combined Asian Games infrastructure with urban development and construction planning of the host cities," said Qiu Peihuang, director of venue construction on the Hangzhou Asian Games Organizing Committee. "We stick to the principle that the construction of the competition venues is not only for the Asian Games, but also an upgrade to the overall facilities in each city that will serve the communities in the long run."
To ensure sustainability of the venues, the concept of minimum waste has been applied to each one.
Before the renovation of each of the existing venues, the facilities and equipment were comprehensively evaluated for continued use, either for the games or in other places, he said.
Hangzhou Dianzi University Gymnasium, for example, will host the fencing events for the Asian Games and Asian Para Games.
The gymnasium has more than 5,000 seats which have been used since it opened 17 years ago, but they remain in good condition. The organizing committee decided to dismantle and clean the seats and put them back to use in the gym.
The LED screens in the gymnasium, which have been in service for six years, were also relocated to the university's swimming and fitness center for continued use, according to Wang Shuhai, director of waste disposal of the venue operation team of Hangzhou Dianzi University Gymnasium.
In terms of the configuration of facilities and equipment for the competition venues, the organizing committee also applies the principle of minimum waste.
The China Textile City Sports Centre Gymnasium in Shaoxing, originally a basketball stadium, will host the volleyball competitions at the Asian Games. To enable the conversion, a special rubber floor was rented, which is directly laid on the original floor of the basketball court.
"Upon the completion of the games, we can simply return the rubber floor and convert the gym back into a basketball arena," said Dong Gudan, the gym's publicity officer.
September 15, 2023

September 13, 2023

September 5, 2023