Hangzhou Asian Games witness record single-day inbound delegations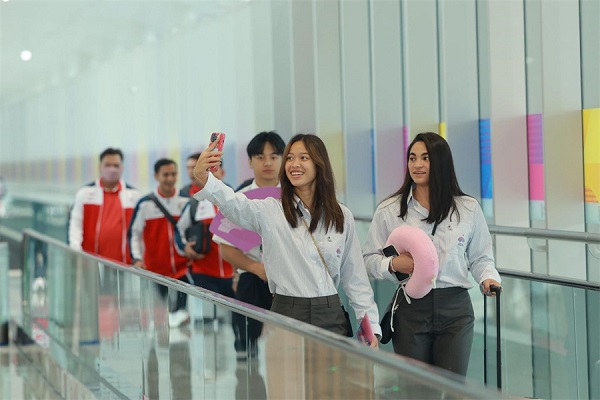 The Thai delegation arrives at the Hangzhou International Airport in Xiaoshan district on Sept 21. [Photo/hangzhou2022.cn]
The Hangzhou Asian Games experienced a peak in single-day arrivals of delegations on Sept 21, with over 3,200 people from 35 countries and regions arriving at the Hangzhou International Airport in Xiaoshan to commence their Asian Games journey.
At 8 am, the Thai delegation of 284 members landed at the airport after a 4-hour flight. After health quarantine and border checks, the delegation retrieved their luggage and, with the help of volunteers, made their way to the ground transportation area, where they boarded shuttle buses to the Asian Games Village.
The airport has so far operated 488 inbound Asian-Games-related flights, transporting over 5,890 participants, including athletes, committee members, technical officials, media members, and broadcasters from various countries and regions.
On Sept 21, the airport expected 175 inbound Asian-Games-related flights, particularly during peak hours, when it handled 18 flights in an hour, accommodating nearly 900 Asian Games participants.
To ensure the provision of essential supplies for inbound personnel during peak hours, the airport has employed an arrival and departure management system to collect the information on the day's inbound flights, personnel, and materials in advance. Using visual charts, they display data and analyze the movement of personnel to flexibly allocate resources.
The airport has also expanded the number of "Asian Games channels" from the original four to between six and eight and deployed over 120 foreign language volunteers during busy periods.
Various types of sporting equipment carried by athletes, such as paddles and kayaks, are considered oversized luggage, some exceeding 3 meters in length, and regular baggage handling procedures are insufficient for the inbound conditions.
Therefore, the airport innovatively designed eight customized luggage trolleys with protective barriers, each capable of carrying eight to 10 oversized pieces of luggage. The design can increase the loading capacity by nearly three-fold compared to the airport's original luggage carts.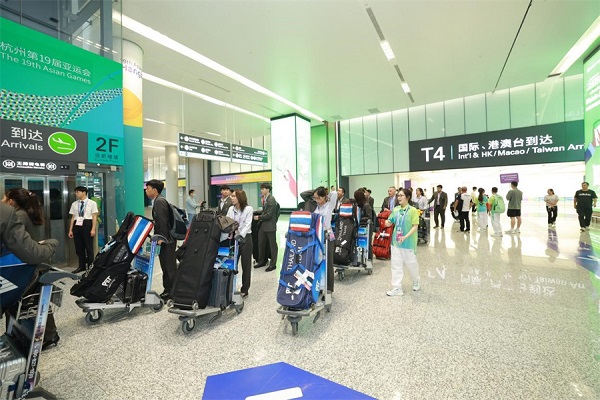 The Thai delegation arrives at the Hangzhou International Airport in Xiaoshan district on Sept 21. [Photo/hangzhou2022.cn]
September 15, 2023

September 13, 2023

September 5, 2023