Faces of the Games| The remarkable journey of Ye Shiwen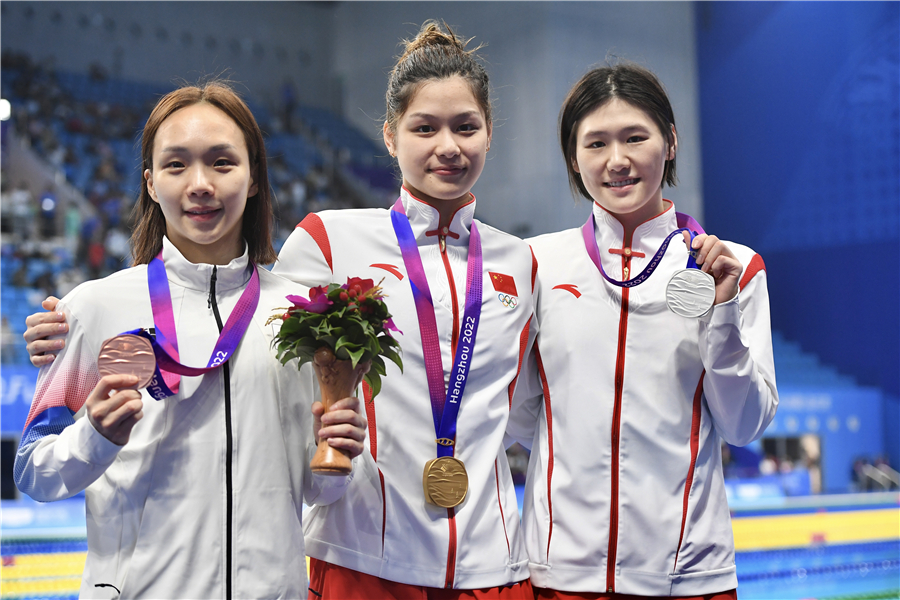 Ye Shiwen (R) with other Chinese medalists at the women's 200-meter individual medley of the Hangzhou Asian Games on Sept 25. [Photo/hangzhou2022.cn]
Not gold but silver became the source of the most thunderous applause on the night of Sept 25. It was a powerful moment for Ye Shiwen, an athlete whose name resonates throughout Hangzhou.
Ye secured a silver medal in the women's 200-meter individual medley with a time of 2 minutes and 10.34 seconds. Competing in her hometown at the Asian Games for the second time was the main inspiration behind her remarkable comeback.
However, the gold she once held in high regard now felt as light as a feather. The underlying theme of her Asian Games journey this time around was to "enjoy".
"Although the result fell short of my expectations, changing the color of the medal at the last moment still brings me great joy. I'm thankful for the support of my fellow Hangzhouers," Ye said about winning the silver medal. But for a long time, she had been a slave to her desire for the gold medal, lost in her own struggle.
Ye holds many titles: China's first Olympic swimming double champion, China's first swimmer to achieve a "golden grand slam", Asia's first swimmer to achieve a "big grand slam", the world's youngest athlete to achieve a double crown in swimming, and a student at Tsinghua University.
Typically, athletes pursue higher education after concluding their careers, but Ye decided to enter the ivory tower in the middle of her sporting journey. In hindsight, her decision in 2017 to step back became the lifeline that saved her swimming career.
Five years before becoming a student at Tsinghua, the iconic phrase "Yeah! She wins!" from a London 2012 Olympics commentator made the then 16-year-old a household name in China. However, as a child, both mentally and physically unprepared for the overwhelming success she achieved overnight, Ye struggled with immense stress and uncertainty.
At the 2013 World Championships in Barcelona, one year after her London triumph, Ye had disappointing results in both the 200m and 400m individual medleys, falling more than 20 seconds short of her combined times from London. It was the first time since 2010 that she failed to make the podium at a major competition.
"I just wanted to go home, to escape. I was totally devastated," she admitted. Ye began suffering from insomnia, hair loss, and an overwhelming fear of competition, even doubting herself before races.
September 26, 2023

September 23, 2023

September 23, 2023
September 23, 2023