Asian Games celebrate 110 years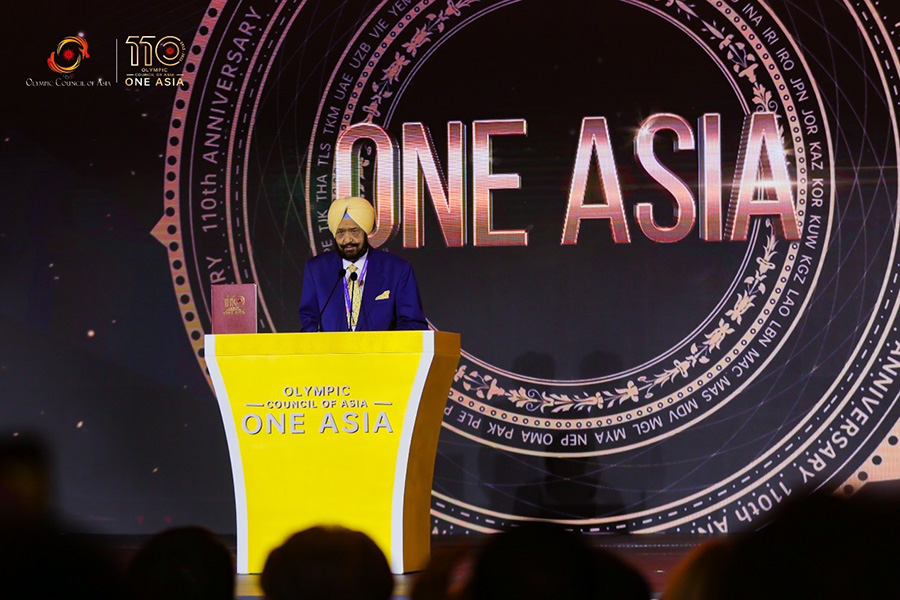 Raja Randhir Singh, acting president of the OCA, delivers a speech at the event. [Photo/xsnet.cn]
The Olympic Council of Asia held a celebration called "One Asia" at the InterContinental Hotel in Hangzhou on the evening of Sept 24, marking the 110th anniversary of the Asian Games.
Representatives from the OCA, the Hangzhou Asian Games Organizing Committee, and the Olympic committees of 45 Asian countries and regions were in attendance.
The first Asian Games were held in New Delhi in 1951, but its origins can be traced back to the Far Eastern Games in Manila in 1913, precisely 110 years ago.
Over decades, sports have acted as a bridge, uniting Asian nations. The sporting events have also contributed to the cultural, economic, and social development of Asia.
In his speech, Raja Randhir Singh, acting president of the OCA, said, "The Asian Games are not just about sports but also a moment to embrace our culture and heritage."
During the event, acting president Singh, Gou Zhidan, president of the Chinese Olympic Committee, and Zhang Qixiang, mayor of Harbin, jointly signed the host city contract for Harbin, which will host the ninth Asian Winter Games in 2025.
To commemorate the completion of the Hangzhou Asian Games Museum, the OCA presented the museum with 18 torches from previous Games, symbolizing the enduring friendships among Asian nations. Awards were also given to the Olympic Committees of different Asian nations that excelled in the "Asian Games Fun Run" and to sponsors and organizers of the "Asian Games Journey through 10 Cities," including Chinese automaker Geely Group.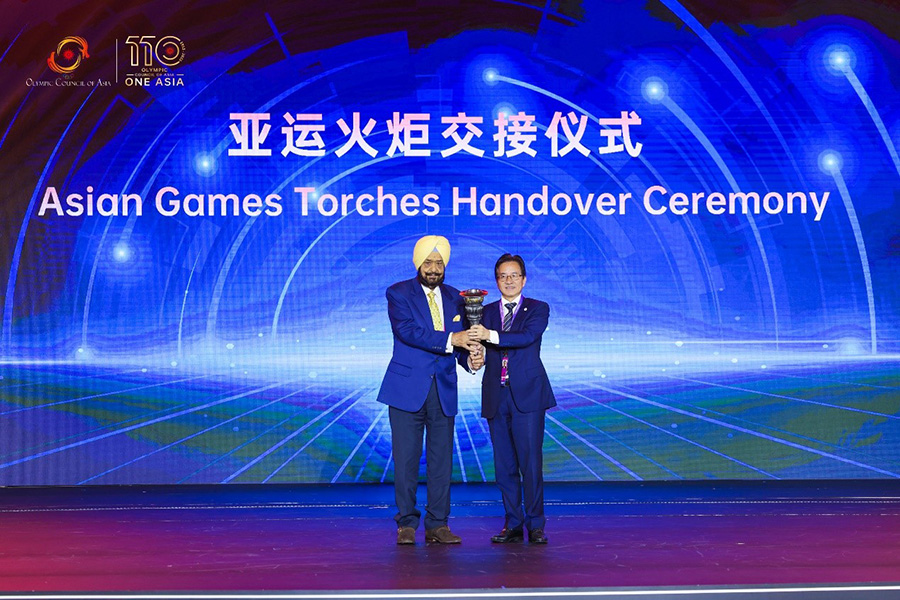 The OCA hands over 18 torches to the Hangzhou Asian Games Museum. [Photo/xsnet.cn]
September 23, 2023

September 23, 2023

September 15, 2023
September 23, 2023