5th World Hangzhou Entrepreneurs Convention to kick off

The 5th World Hangzhou Entrepreneurs Convention is scheduled to unfold on Nov 7. [Photo/WeChat account: hzgsl-904]
Scheduled to commence on Nov 7, the 5th World Hangzhou Entrepreneurs Convention will be held in Hangzhou, featuring award ceremonies and forums on both virtual and physical platforms.
The event aims to unite global Hangzhou entrepreneurs to foster cooperation and advance together.
Hangzhou's renowned local entrepreneurs stand as a significant driver of the city's economic and social progress. In the recently-released 2023 Top 500 Chinese Private Enterprises list, 42 Hangzhou-based enterprises made the cut, leading the chart for 21 years in a row.
The upcoming conference will honor exceptional Hangzhou-based entrepreneurs who have contributed to the city's economic and social development, aiming to inspire confidence within the private sector.
In recent years, the World Hangzhou Entrepreneurs Convention has served as a platform for Hangzhou businesspeople to exchange ideas, learn from each other, and negotiate investments.
This year's event will feature specialized forums such as the World Hangzhou Entrepreneurs Development Forum, emphasizing global collaboration and development among Hangzhou entrepreneurs.
On Nov 8, the 2023 New Generation Entrepreneurial Summit will bring together emerging entrepreneurs from diverse industries in Hangzhou, fostering discussions on the legacy of Hangzhou business spirit and dialogues centered around Hangzhou's modern development. They will also engage with young entrepreneurs from six participating cities, collectively advocating for youthful innovation and entrepreneurship.
The conference will be accompanied by a series of activities throughout the event, including the Zero Carbon Summit, the Second Biomedical Innovation and Development Forum, and forums on the green innovation and investment development of emerging industries.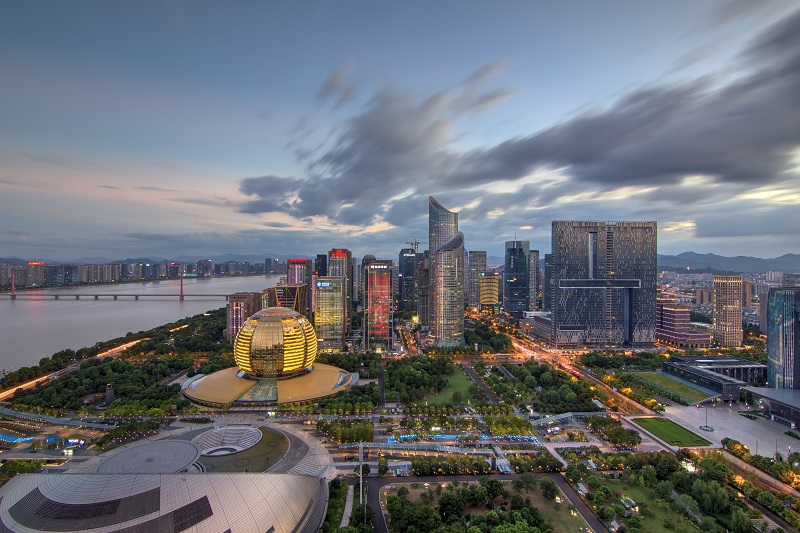 A night view of Qianjiang New City, an up-and-coming business district in Hangzhou, Zhejiang province, Oct 25. [Photo/IC]
November 1, 2023

October 30, 2023

October 25, 2023
October 16, 2023