Jiande Xin'an River Marathon attracts 12,000 participants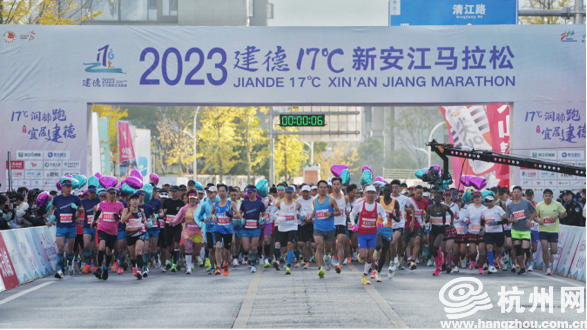 The 2023 Jiande 17°C Xin'an River Marathon kicks off on the morning of Nov 19. [Photo/hangzhou.com.cn]
The 2023 Jiande 17°C Xin'an River Marathon, the fifth edition of the event, kicked off on the morning of Nov 19.
The marathon featured a full marathon (42.195 kilometers), half marathon (21.0975 km), and fun run (3.6 km). A total of 12,000 people participated, including 19 international runners from Germany, South Korea, Japan and the United States and 348 professionals from 31 provinces, autonomous regions and municipalities, Hong Kong, Macao, and Taiwan.
The event started at the Jiande Museum, with the course passing through various local scenic spots and landmarks, including the Jiande City Museum, Baisha Bridge, Binshui Park, and Xin'an Greenway.
The marathon is a showcase of Jiande's natural landscapes, sports, leisure, and historical and cultural beauty. The slogan "17°C, Lung-nourishing Run, Falling in Love with Livable Jiande" has become deeply embedded in the hearts of people, turning the event into a cultural and tourism extravaganza.
The Xin'an River maintains a temperature of between 14°C and 17°C throughout the year, regardless of external temperatures ranging from 40°C to sub-zero. The river's clear water and rippling waves and the hazy landscape of mountains and rivers provide a picturesque backdrop.
Over the years, from an initial half marathon with 6,000 participants in 2019 to the current full marathon with 12,000 participants, the scale of the event has grown every year, and the number of participants has continued to rise.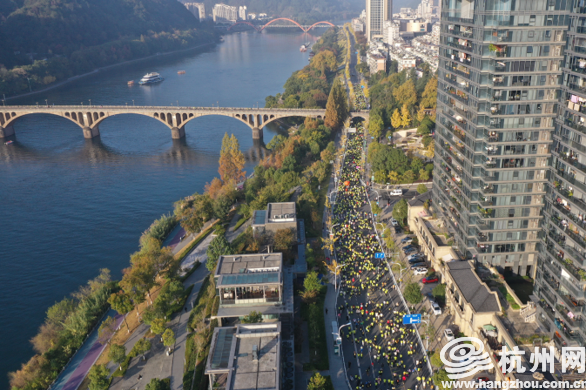 The 2023 Jiande 17°C Xin'an River Marathon kicks off on the morning of Nov 19. [Photo/hangzhou.com.cn]
November 15, 2023

November 3, 2023

October 25, 2023
October 16, 2023