Ancient kingdom reveals its secrets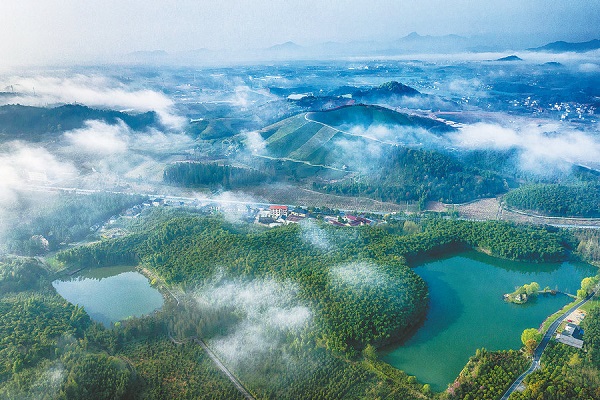 A bird's-eye view of the Liangzhu site in Hangzhou, Zhejiang province, where an ancient civilization lived about 5,000 years ago. [Photo provided to China Daily]
"Liangzhu site is well-preserved," says Liu Bin, a veteran archaeologist who discovered Liangzhu city in 2006. "The archaeological achievements in the past decades are enough to demonstrate a civilization that was as glorious as that in ancient Egypt."
Liu's latest book on excavations at the Liangzhu site was published in July.
In 1986, Liu took part in an excavation that unearthed hundreds of exquisite jade articles at high-level cemeteries near Liangzhu city. It unveiled a mature jadeware production industry in Liangzhu culture and also a stratified society.
Two decades later, the veteran discovered ruins of the city walls, and a well-organized capital city of a regional state in the late Neolithic period was unveiled to the public. Ruins of the complicated water conservancy system were found later from 2009 to 2013. It's the first hydraulic project ever found in China from Neolithic times.
"Liangzhu culture has production chains of jade, pottery and stone, a smart dam system, and a city that was well-built on marshland. It gives the world a good example of civilization along the Yangtze River," Liu says.
August 4, 2023

July 27, 2023