Ancient kingdom reveals its secrets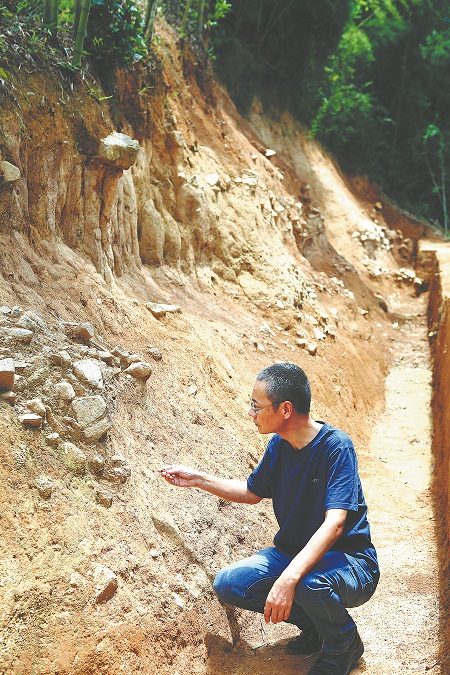 Wang Ningyuan, a researcher with the Zhejiang Provincial Institute of Cultural Relics and Archaeology, works at the ruins of a dam system unearthed at the Laohuling site, where the first hydraulic project in China was discovered. [Photo provided to China Daily]
Wang Ningyuan, a researcher with the Zhejiang Provincial Institute of Cultural Relics and Archaeology, says that the standards used to define a civilization in China are inspired by the Liangzhu site. In the West, scripts are seen as a key standard of a civilization. However, China regards the appearance of a kingdom as the standard.
Evidence of scripts in Liangzhu culture has not yet been found. But, archaeological projects, beginning in 1936, at the site have proved that a developed kingdom existed. Wang says the unique characteristic that makes Liangzhu culture stand out from others is its sophisticated dam system, the first ever of its kind at the time.
"The dams were designed and finished before the capital city was built, which means the prehistoric people had a detailed city plan to build public utilities," says Wang, who is in charge of the archaeological project focusing on the ancient water conservancy system.
Based on experimental testing of the ruins found at the dams, it is believed that they were built roughly 5,000 to 4,950 years ago. It is thought that the system was designed to transport goods, protect against floods and irrigate rice fields. The city wall was built 200 years later.
"I'm shocked by the sophisticated hydraulic system. People then only used very simple tools. I can't imagine how they made it," says Wang. He started work at the site in 2000 and was the one who first discovered the dam.
August 4, 2023

July 27, 2023