Writer makes tough subject comically easy to grasp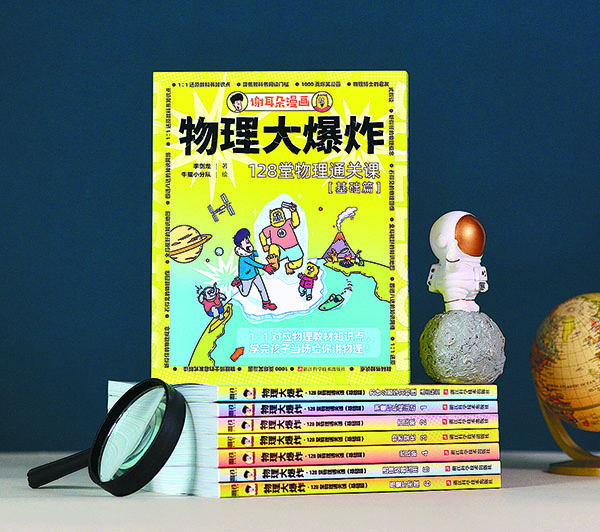 A set of booklets, Big Bang in Physics: 128 Sessions of Physics Courses (Basic Edition), aims to usher school students into the world of science through simple comic stories, and plant the seeds of curiosity in their minds. [Photo provided to China Daily]
Isn't it amazing to combine education with entertainment for children?
Imagine if primary school students could grasp abstract physics concepts effortlessly through reading funny comics crafted by experts.
That's where Big Bang in Physics: 128 Sessions of Physics Courses (Basic Edition), comes in. It's a set of seven booklets that introduces basic physics concepts via comics tailored for children.
Published by Zhejiang Science and Technology Publishing House, it's written by Li Jianlong and illustrated by the comic artists group, Niumao Xiaofendui, which has cooperated on other science comics for children, including one on the theme of frontier technology.
Li, 38, who has a doctorate in theoretical physics, has dedicated himself to promoting scientific knowledge via simple comics.
"I hope that children will become interested in physics after reading these engaging comics. When they learn the subject in the future, they will be able to comprehend it more easily," says Li, who lives in Hangzhou, Zhejiang province.
He has more than 1.46 million followers on Sina Weibo.
The content of the comics corresponds to that of the eighth-grade physics textbook for the first semester. He also designs a network diagram that connects all the phenomena and concepts.
When producing the content, Li took the most complicated concepts from the textbook and described his ideas very specifically with the illustrators.
Together, they've successfully transformed "the seemingly dull knowledge" into comic stories, making them easily understandable for children.
Li says the comics are mainly for students who struggle to grasp the subject or feel overwhelmed in class, helping them to improve their learning ability.
He emphasizes that while explaining abstract concepts of physics to children, it's crucial to make them more tangible and relatable.
"I need to present information in ways that children are accustomed to. This is where the use of analogies and wisecracks becomes an important teaching technique," he says.
August 25, 2023

August 24, 2023

August 21, 2023